What is Periodontal Disease or Gum Disease?
Periodontal disease or gum disease, is caused by plaque developing between the teeth and gums. Once plaque begins to accumulate it becomes toxic to the gum and causes infection. At some point this disease will spread to the jaw bone. Gum recession, gum pockets, and bone loss will result and eventually lead to tooth loss.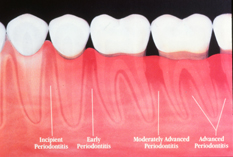 Stages Of Periodontal Disease
Step 1 - Daily Plaque Removal
Gum disease can be eliminated with proper treatment. This consists of aggressive and regular twice a day dental flossing at home, and a thorough cleaning of the gum tissue called scaling and root planing in our office. Plaque must be removed from below the gum tissue for success. In some cases, especially in more advanced disease, gum surgery may be needed for access to remove plaque and regenerate bone.
Step 2 - Treatment to Eliminate Existing Gum Disease
Treatment will restore your mouth to health. Unfortunately, scaling and root planning, and gum surgery are not a cure. Gum disease is a chronic disease and each patient is susceptible to future disease despite successful treatment.
Step 3 - Prevention of Future Disease
Fortunately, proper maintenance care can prevent the return of disease. Proper maintenance care for patients susceptible to gum disease is regular three month cleaning visits. This is the standard of care for patients with gum disease. Research is clear than patients will develop new episodes of disease on a six month schedule.
You have made an investment of time and money. Gum disease can be treated and prevented. Nothing works as well as your natural teeth, they should last a lifetime.