Barrier Membranes used with or without bone graft material are an additional aide to regenerate bone around teeth and in area where teeth have been missing for many years. Barrier membranes protect bone graft material, stabilized bone graft in the area of placement, and prevent gum tissue and bacterial plaque from preventing bone regeneration. Membranes can also be used to regenerate bone during and after implant placement.
Membranes confine bone graft material and keep gum tissue away from the bone graft. Bone takes many weeks to regenerate and membranes give bone the time needed for regeneration.
| | | |
| --- | --- | --- |
| | | |
| Tooth Extration | | Extraction with Membrane |
The above diagrams show the difference in healing with and without membranes in tooth extraction areas. Membranes and bone graft should be used in extraction areas to allow for future needed bone for implant placement and to prevent recession in the smile zone.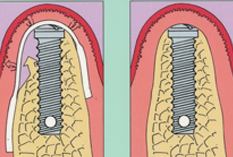 Implant with Membrane
When implants are placed in areas of thin bone, membranes and bone graft are used for long term implant stability.